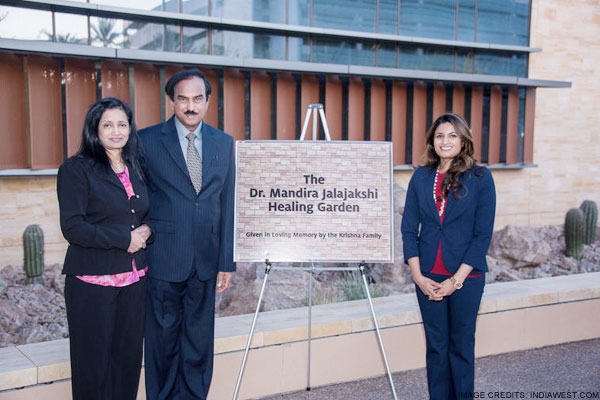 (Image source from: })
An Indian-American couple has donated $1 million for the construction of a cancer treatment center at the University of Arizona in memory of late Dr Mandira Jalajakshi.
Dr Ram, an orthopedic surgeon and his wife Meera Krishna have donated the amount towards the construction of the UA Cancer Center at St Joseph's Hospital and Medical Center outpatient facility that would provide comprehensive cancer services, along with infusion, radiation oncology, diagnostic imaging, endoscopic radiology, a prevention center, clinical lab space and several specialized cancer clinics.
The five-story premises will have 2,20,000 square-foot facility in partnership between the varsity and St Joseph's Hospital, which is under construction in Phoenix city. The facility would be opened in September.
The couple has chosen the UA as their two daughters graduated from the varsity and wanted to support UA medical education and research.
"I was very impressed with President Hart's vision, and we wanted to give back. Education and research in the medical field are very important to us," a press statement quoted Ram as saying.
The new center will have the name of the late Dr Mandira Jalajakshi, who was a physician practicing in England when she passed away in 2012. Mrs. Meera Krishna has recollected her sister Jalajakshi's contribution in the field of health services.
-Kannamsai