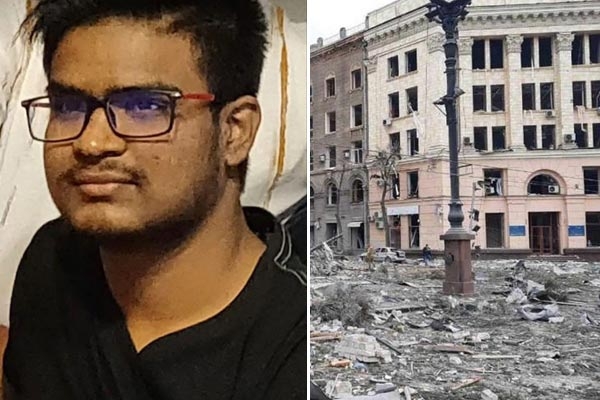 (Image source from: tribuneindia.com)
The Indian government has been trying hard to evacuate all the Indian students and working professionals from Ukraine after Russia staged an attack on the country. A series of flights departed from Ukraine and reached India in the last couple of days. In an unfortunate incident, an Indian student passed away in Kharkiv on Tuesday morning as per the official statement from the Ministry of External Affairs. MEA spokesperson Arindam Bagchi issued a statement that told "With profound sorrow we confirm that an Indian student lost his life in shelling in Kharkiv this morning. The Ministry is in touch with his family.We convey our deepest condolences to the family". The Indian student is Naveen Shekharappa Gyanagoudar who is 20 years and he hails from Karnataka.
Naveen is pursuing his fourth year medicine at Kharkiv National Medical University. Naveen was shot dead at 10:30 AM as per the local time today. He was standing before a grocery store when the Russian army opened fire and Naveen was killed on spot. There is no information about the mortal remains of Naveen as of now. The Indian Embassy in holding talks with the government of Ukraine to trace the body of Naveen. More than 70 people of Ukraine were killed after Russia staged rocket attacks. The Indian Embassy in Kyiv issued an advisory for all the Indians to return back to the country at the earliest through any available means. Reacting to the death of the Indian student in Kharkiv, Congress leader Rahul Gandhi offered his condolences to the family.
By Siva Kumar